NB: I met Peter at the 2013 GBATA conference in Helsinki.  My thanks go out to Dr. N J Delener and the entire GBATA committee for inviting me to keynote, and arranging for us to meet Peter.  Learn more about the Global Business And Technology Association at www.GBATA.org.  I've had the honor of keynoting at GBATA in 2012 & 2013 and they are an amazing group of academics and researchers at the forefront of academia, marketing and management.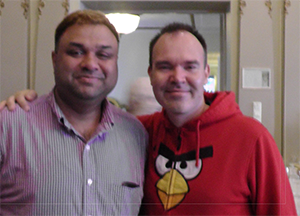 ANGRY BIRDS fans know that the most powerful character in the game is The Might Eagle – one flick and this bird gets rids of those pesky piggies!
In July, we took a trip to Helsinki, Finland and I got a chance to spend an evening with The Mighty Eagle (yes, that's exactly how he refers to himself).
Peter used to work for HP where he sponsored a startup contest and 2 young college kids won the contest. They asked him, "hey, we're pretty good programmers, and we like making games. What should we do next?"
Peter replied "why don't you start a company" and Rovio was born.
As a pioneer in the mobile games space, they had a lot of failures. Rovio launched 50 games before they delivered Angry Birds.
LESSONS LEARNED:
There are no failures. Only lessons learned till you find success. Just like Angry birds, if you don't succeed, KEEP TRYING!And Peter knew he had a hit on his hand when the founder's mother played it over Christmas…and refused to give her son his iPhone back.As director of Marketing, Peter is an eccentric genius. When they launched Angry Birds, the focused on making it the #1 game on iTunes in Finland. Admittedly, this was not a HUGE market, but they were able to capitalize on that marketing win.By advertising that they were #1 in iTunes Finland, they became #1 in Scandinavia, then the UK, and ultimately, the US.
Celebrate EVERY marketing win. And market every win. BUILD ON YOUR SUCCESSES.
Today, Rovio is the Disney Corp. of Finland, and Peter is truly Walt Disney.The Mighty Eagle has transformed Angry Birds from a simple game into a global marketing juggernaut with games, movies, books, COFFEE(!), candies, soda, theme parks, NASA missions, etc.Even though FOX owns movie studios, TV channels, Game studios, and newspapers, they came to Rovio to help them build the RIO game. RIO was the biggest animation movie in 2012 and took home $500M in ticket sales. Angry Birds Rio generated $200M of those sales.I asked Peter about that joint venture and in his words "it was a good start".Last year, Rovio launched Angry Birds Cola. Today, Angry Birds cola outsells Coke Cans in Finland, Norway, Russia and China. Rovio accomplished in 6 months what Pepsi hasn't done in 30+ years.
And Peter said "that's a good start".
BE HUMBLE. Everything is just a "good start".I could go on and on with lessons from the mighty eagle…but I've got some piggies to destroy.